Naples Florida Cobia Fishing Record Set at Captain Joey D. Charters
Happy New Year from Captain Joey D. Charters down here on the beautiful waters of Naples Florida! The year is off to an incredible start. The weather is breezy with temperatures in the 70's, and one of our guests just caught a big catch to set the record straight for Cobia fishing in Naples Florida!
For over a decade we have been fishing the backwaters of the Gulf of Mexico. We provide boat rentals and fishing charter trips to adventure seekers from near and far. Every day on the water is a day well spent, but nothing compares to the exciting thrill of experiencing our guests reel in a record breaking catch!
Our Naples Florida fishing charters are waiting for you
We're certainly facing some strange times during this pandemic, but our boat rentals in Naples and fishing charters are running full swing. Last year, we worked hard to add more boat rental to our fleet which can be booked directly on our brand new website! Now let's get on to the big Cobia catch, shall we?

Did you know Rachycentron Canadum is another name for the Cobia fish? They resemble little sharks, and are considered a delicious fish for eating thanks to their flavor, high oil content and succulent flesh. If you didn't know, the Cobia fish is a monster fish that can grow up to 150 lbs. Through research we found that the previous record weight in Florida was 135 lbs, 2 ounces. Our recent catch topped that record with a total weight of 135 lbs, 9 ounces.

Take a look at this monster fish! Wrestling in a Cobia is no easy feat, and the angler who reeled it in compared it to a full body workout. Bragging rights well deserved.

The Cobia fish varies in weight between 10 pounds up to 100 pounds, and they have a row of sharp dorsal spines that can cause some serious damage if not handled properly. Cobia fish can be found anywhere from Massachusetts to Florida, and they migrate seasonally. From March to October they are populous in the northern gulf, and they migrate to the southern gulf from November to March.

Cobia fish are most known to bite live bait ranging from eel, live spot or bunker and soft or peeler crabs, but artificial lures make for a relatively easy catch if you've spotted a Cobia fish. By using a bucktail jig with contrasting colors, this record breaking Cobia fish was caught on our Still Dreamin' 32.6 foot boat platform!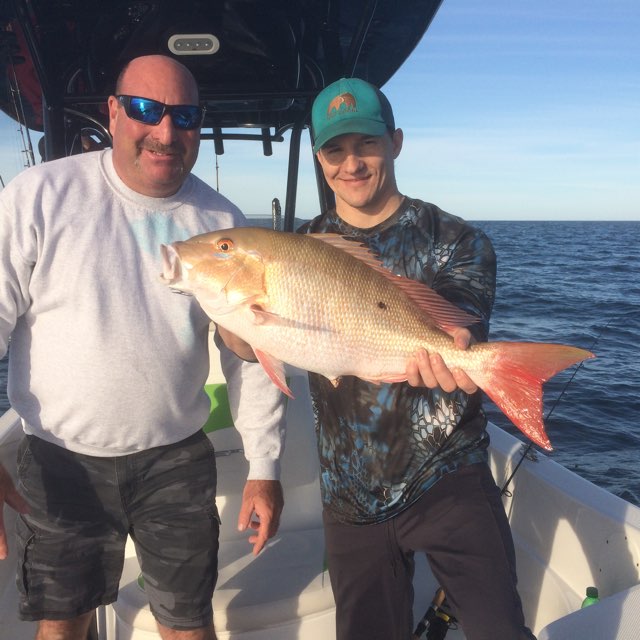 If you're up for the challenge to hook a Cobia fish in the Gulf of Mexico, you can count on Captain Joey D. Fishing Charters to make it happen. Our professional captains are seasoned Cobia spotters with experience luring in the strong and stubborn beasts. Anglers should always take caution when Cobia are boarded onto the boat because they are known to kick uncontrollably until they're out of strength. Luckily, no damage was done to our boat!